AzB Silver Member
Silver Member
First World Championship (9ball or 10 ball) on US soil in about 20 years.
Starts tomorrow 22 July.
FREE LIVE STREAM
https://www.youtube.com/user/csipool
LIVE SCORING : www.ctsondemand.com
Links :
https://www.facebook.com/world10ball/
https://www.world10ball.com
14 in top 20 Fargo (=>802)
40 players in top 100 Fargo (=>770 )
Except for a few, all >700 Fargo
Notable absentees- Wu, Orcullo, Lee Van Corteza, Liu Haitao, Hsu Kai Lun, Mike Dechaine, Francesco Sanchez Ruiz, Mark Gray, Jeff De Luna, David Alcaide , Justin Bergman, Ruslan Chinakov, Aloysius Yapp
64 field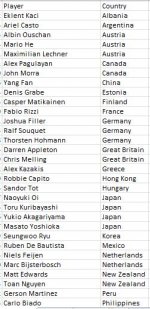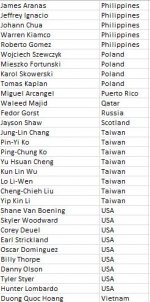 Final 2 qualfier spots
63 Raymond Faraon
64 Vilmos Foldes
Pluses and Minuses:
-real "pro" players event. Either invited or qualify by winning qualifiers.
Average Fargo (excluding a few dead money sent by their federations) 780
-Free live stream
- slightly weaker field compared to recent World 9 Ball championships (W9B) and US Open
-smaller field of 64 for World Championship makes this slightly easier to win. Typically, W9B is 128 field. Recent US Open was around 256 field.
Double elimination to Single elimination last 16 means only need to win 7 matches undefeated to win title. World 9 Ball (Double elimination to single elimination last 64) needs 8 matches while recent US Open also needs 8 matches.
Dates: July 22-26
Location: Rio All-Suite Hotel and Casino
Equipment
Table: 9' Diamond Pro-Am
Cloth: XK2 Cloth
Balls: Predator Arcos II
Rules:
https://wpapool.com/rules-of-play/#Ten-Ball
Stages
The Predator World 10-Ball Championship will consist of two stages.​
Stage 1:
64 players
Race to 8
Double elimination to the top 16 (8 on winners' side & 8 on one-loss side)

Stage 2:
Final 16 players
Race to 10
Single elimination
Paid spots: 32
Players: 64
Entry: US $500
Added: US $100,000
Last edited: