AzB Silver Member
Silver Member
Who do you guys like to win this one ?
Really a great field for this event!!!
It includes the entire Mosconi Cup Team USA Players & Coaches.
The 47th Annual Texas Open 9 Ball Championships.
$18,000 Total Added
Live from Skinny Bob's in Round Rock Texas.
October 28th-November 1st.
New ownership & 18 all new 9ft Diamond Tables.
$10,000 Added Open 9 Ball Division.
$7,000 Added One Pocket Division this year.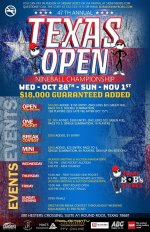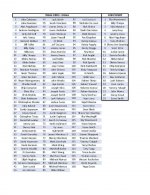 ​