AzB Silver Member
Silver Member
Best One Pocket Players on the planet!!!

Biggest payouts of any One Pocket event.

Biggest Calcutta in all of One Pocket.

$10,000 True Added Money. 100% Payback on Calcutta and no greens fees or table time.

Buffalo's Billiards is open 24-7-365 and it's the BEST ACTION pool room in the country Big Easy Style. :clapping:

Anybody that likes One Pocket this is as good as it gets guys, and is not to be missed.


Past Champions
2015 Alex Pagulayan
2016 Tony Chohan
2017 Dennis Orcollo
2018 Justin Hall
2019 ????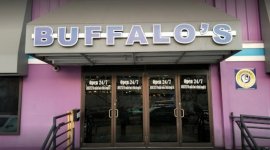 Open 24-7-365, They never close ever!!!
5029 Bloomfield St, New Orleans, LA 70121
Phone: (504) 835-0173



​
Last edited: