I'm selling off my entire collection of the Accu-stats matches. All of the DVDs have been purchased from Pat direct. As far as one pocket and 9-ball matches are concerned, these are the top matches in the Accu-stats catalogue imho. The pricing will depend on how many DVDs you want to buy as follows (all prices include shipping but I can't sell less than two DVDs as the shipping cost from the UK will exceed the sales proceeds):
2-4 $9 ea
5-10 $7 ea
11-19 $6 ea
20+ $5 ea
Numbers 3, 20-59 are sold.
All others are still available.
Please pm me with the DVDs you are interested in instead of replying here as this would bump the thread to the top. I will collate the messages and update the thread on a weekly basis (or more regularly if there is considerable interest). I also attach the spreadsheet with the matches if that is easier/helpful.
P.S. I can't add all of the matches in one post due to 10,000 characters limitation so best to check the attachment. I will be adding the remaining matches once the 48 hours restriction has lapsed.
Code:
No.    Year    Tournament    Game    Match    Commentary    ID
1    1966    U.S. Open    14.1    Crane vs. Balsis | 1966 U.S. Open    Joe Wilson    AS-CBD
2    1989    U.S. Open    14.1    Steve Mizerak vs. Mike Sigel* | 1989 U.S. Open    Bill Incardona, Bill Staton, Grady Mathews    14SP-09D
3    1992    U.S. Open    14.1    Jim Rempe vs. Allen Hopkins | 1992 U.S. Open    Grady Mathews, Jack Colavita    15SP-10D
4    1992    U.S. Open    14.1    Dick Lane vs. Johnny Archer (PR)* | 1992 U.S. Open    Pat Fleming, Dick Lane    15SP-11D
5    1993    Cleveland    14.1    Grady Mathews vs. Pat Fleming (PR)* | 1993 Cleveland    Grady Mathews, Pat Fleming    C93-02D
6    1995    The Maine Event    14.1    Efren Reyes vs. Jim Rempe | 1995 The Maine Event    Grady Mathews, Danny Diliberto    ME-08D
7    2000    U.S. Open    14.1    Jim Rempe vs. George San Souci (Player Review) * | 2000 U.S. Open    Pat Fleming, Jim Rempe    17SP-04D
8    2000    U.S. Open    14.1    Efren Reyes vs. Mike Sigel* | 2000 U.S. Open    Bill Incardona, Nick Varner    17SP-08D
9    2000    U.S. Open    14.1    Oliver Ortmann vs. Jim Rempe* | 2000 U.S. Open    Jeremy Jones, Chris Lynch    17SP-11D
10    2000    U.S. Open    14.1    Ralf Souquet vs. Efren Reyes (SF)* | 2000 U.S. Open    Bill Incardona, Nick Varner    17SP-12D
11    2000    U.S. Open    14.1    Ralf Souquet vs. Min-Wai Chin (F)* | 2000 U.S. Open     Bill Incardona, Nick Varner    17SP-13D
12    2006    Derby City Classic    14.1    John Schmidt On Straight Pool - 112 | 2006 Derby City Classic    Pat Fleming, John Schmidt    AS-JSD
13    2008    Accu-Stats Invitational    14.1    John Schmidt's Player Review - 169 | 2008 Accu-Stats 14.1 Invitational     Danny Diliberto, John Schmidt    SP01-11D
14    2008    Accu-Stats Invitational    14.1    Thorsten Hohmann's Player Review - 112 | 2008 Accu-Stats 14.1 Invitational     Danny Diliberto, Thorsten Hohmann    SP01-12D
15    2008    Accu-Stats Invitational    14.1    Thorsten Hohmann's Player Review - 149 | 2008 Accu-Stats 14.1 Invitational     Danny Diliberto, Thorsten Hohmann    SP01-13D
16    2009    World Championship    14.1    Earl Herring vs. Oliver Ortmann **(PR) | 2009 Predator World 14.1 Championship     Pat Fleming, Oliver Ortmann    SP09-01D
17    2010    Derby City Straight Pool    14.1    Player Review of John Schmidt's 171 Ball Run* (PR) | 2010 Derby City Straight Pool    Mark Wilson, John Schmidt    D12-SP6D
18    2010    Predator World 14.1 Championship    14.1    Mika Immonen vs. Mike Sigel* (PR) | 2010 Predator World 14.1 Championship    Pat Fleming, Mika Immonen    SP10-16D
19    2014    All-Stars Straight Pool    14.1    Dennis Orcollo vs. Shane Van Boening* | 2014 All-Stars Straight Pool    Bill Incardona, Danny Diliberto    AS14-SP1D
20    1991    Legends of One Pocket    1Pocket    Melvin "Strawberry" Brooks vs. Louie Roberts | 1991 Legends Of One Pocket     Bill Incardona, Danny Diliberto    C1P-02D
21    1991    Legends of One Pocket    1Pocket    Jack Breit vs. Bob Osborne | 1991 Legends Of One Pocket - Philadelphia Style     Bill Incardona, Buddy Hall    P1P-01D
22    1991    Legends of One Pocket    1Pocket    Jimmy Fusco vs. Jim Rempe | 1991 Legends Of One Pocket - Philadelphia Style     Freddy Bentivegna, Lou Butera    P1P-04D
23    1991    Legends of One Pocket    1Pocket    Steve Mizerak vs. Nick Varner (SF) | 1991 Legends Of One Pocket - Philadelphia Style     Bill Incardona, Grady Mathews    P1P-07D
24    1991    Legends of One Pocket    1Pocket    Steve Cook vs. Steve Mizerak (F) | 1991 Legends Of One Pocket - Philadelphia Style     Bill Incardona, Grady Mathews, Buddy Hall    P1P-08D
25    1994    Roanoke One Pocket Championship    1Pocket    Johnny Ervolino vs. Allen Hopkins & Bill Staton vs. Bill Stephen | 1994 Roanoke    Buddy Hall, and Grady Mathews, Buddy Hall    R1P-01D
26    1994    Roanoke One Pocket Championship    1Pocket    Bill Incardona vs. Buddy Hall | 1994 Roanoke     Bill Staton, Johnny Ervolino    R1P-02D
27    1994    Roanoke One Pocket Championship    1Pocket    Steve Cook vs. Pete Fusco | 1994 Roanoke    Bill Incardona, Buddy Hall    R1P-03D
28    1994    Roanoke One Pocket Championship    1Pocket    Buddy Hall vs. Steve Mizerak | 1994 Roanoke One Pocket Championship    Bill Incardona, Grady Mathews    R1P-04D
29    1994    Roanoke One Pocket Championship    1Pocket    Rafael Martinez vs. Steve Cook* | 1994 Roanoke     Grady Mathews, Bill Staton    R1P-05D
30    1994    Roanoke One Pocket Championship    1Pocket    Pete Fusco vs. Nick Varner* | 1994 Roanoke    Grady Mathews, Ed Liddawi, Buddy Hall, Bill Staton    R1P-06D
31    1994    Roanoke One Pocket Championship    1Pocket    Bill Incardona vs. Grady Mathews* (SF) | 1994 Roanoke    Buddy Hall, W.W. Woody    R1P-10D
32    1994    Roanoke One Pocket Championship    1Pocket    Dave Bollman vs. Bill Incardona (F)* | 1994 Roanoke    Grady Mathews, Buddy Hall    R1P-11D
33    1995    Roanoke One Pocket Championship    1Pocket    Buddy Hall vs. Steve Mizerak * | 1995 Roanoke     Grady Mathews, Strawberry Brooks    R1P2-01D
34    1995    Roanoke One Pocket Championship    1Pocket    Grady Mathews vs. Melvin "Strawberry" Brooks | 1995 Roanoke    Buddy Hall, Bill Stephen    R1P2-02D
35    1995    Roanoke One Pocket Championship    1Pocket    Steve Dobrowolski vs. Buddy Hall | 1995 Roanoke One Pocket    Buddy Hall, Steve Dobrowolski    R1P2-06D
36    1995    Roanoke One Pocket Championship    1Pocket    Steve Mizerak vs. Jose Parica | 1995 Roanoke One Pocket Championship    Bill Staton, David Maddux    R1P2-08D
37    1995    Roanoke One Pocket Championship    1Pocket    Jose Parica vs. Grady Mathews* (F) | 1995 Roanoke    Bill Staton, David Maddux    R1P2-10D
38    1996    U.S. Open    1Pocket    Jose Parica vs. Gerry Slivka* | 1996 U.S. Open     Bill Incardona, Freddy Bentivegna    K1P-07D
39    1996    US Open    1Pocket    Jayme Goodwin vs. Jose Parica (F)* | 1996 U.S. Open    Bill Incardona, Freddy Bentivegna    K1P-09D
40    1997    One Pocket - Cincinnati    1Pocket    Grady Mathews vs. Nick Varner* | 1997 One Pocket - Cincinnati    Bill Incardona, Freddy Bentivegna    MV-01D
41    1997    One Pocket - Detroit    1Pocket    Grady Mathews vs. Nick Varner* | 1997 One Pocket - Detroit    Bill Incardona, Freddy Bentivegna    MV-03D
42    1998    Legends of One Pocket    1Pocket    Cliff Joyner vs. Efren Reyes* | 1998 Legends of One Pocket    Bill Incardona, Grady Mathews    1P4-07D
43    1998    Legends of One Pocket    1Pocket    Shannon Daulton vs. Nick Varner* | 1998 Legends    Bill Incardona, Grady Mathews    1P4-09D
44    1998    Legends of One Pocket    1Pocket    Buddy Hall vs. Efren Reyes* | 1998 Legends    Bill Incardona, Scott Smith    1P4-10D
45    1998    Legends of One Pocket    1Pocket    Shannon Daulton vs. Efren Reyes* (SF) | 1998 Legends     Bill Incardona, Grady Mathews    1P4-11D
46    1998    World One Pocket Championships    1Pocket    Ray Martin vs. Shannon Daulton* | 1998 World One Pocket Championships    Bill Incardona, Freddy Bentivegna    1P98-01D
47    1998    World Championship    1Pocket    J.R. Gay vs. Ronnie Allen* | 1998 World One Pocket Championships     Freddy Bentivegna, Tom Dilorenzo    1P98-05D
48    1998    World One Pocket Championships    1Pocket    Buddy Hall vs. Ray Martin (SF) | 1998 World One Pocket Championships    Bill Incardona, Ronnie Allen, Freddy Bentivegna    1P98-12D
49    1998    World Championship    1Pocket    Buddy Hall vs. Marco Marquez *(F) | 1998 World One Pocket Championship    Bill Incardona, Ronnie Allen    1P98-13D
50    1999    Derby City One Pocket    1Pocket    Dannny Diliberto vs. Wade Crane* | 1999 Derby City One Pocket    Bill Incardona, Bill Staton    DC-1P1D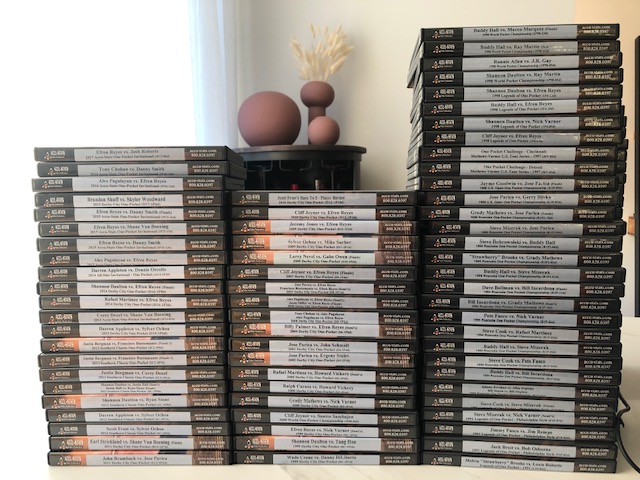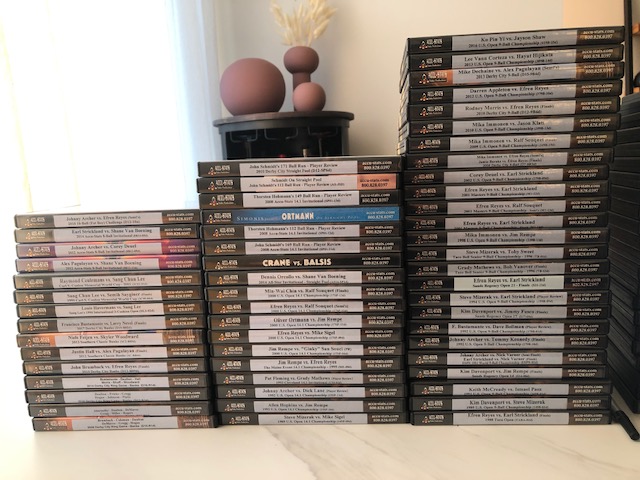 Last edited: