AZB Osmium Member
Staff member
Gold Member
Silver Member
The Trend in Billiards
By Lincoln A. Werden (from an unknown 1934 magazine)
THERE was a time when it was customary for your host, once the cordial was served, to invite you to a game of billiards. But for several reasons the billiard games have been in the doldrums in recent years and it is a rare discovery to find a billiard room in the home of a friend.
There is, or was, "straight rail" billiards, now practically obsolete, in which points were made when the cue ball caromed off the other two object balls. As the ardent enthusiasts admit, this really wasn't "much of a game."
On the other hand there is "balkline." Balkline requires skill and necessitates from five to ten years before one acquires any sort of proficiency. It is to straight rail billiards something of what contract bridge is to euchre.
A Hard Game
To play balkline on the regulation five by ten foot billiard table, lines of chalk (or the balk lines) are drawn at definite distances from the cushion or edge. In "eighteen-one" balkline, the distance is eighteen inches. The "one" indicates that in order to score a point, one object ball, at least, must be driven out of the chalked areas on each stroke. An adept player controls them so they roll out and then come back into this restricted space. In "eighteen-two" balkline, the same is true except that the "two" signifies the player need only drive one ball out on every two strokes, thus making the game easier.
However, there are two other games that are more in vogue at present. One of them is "pocket billiards." nothing more than what has been generally identified as "pool." Unfortunately, the word "pool," or rather such places known as "pool parlors." became discredited in the American mind.
The manufacturers of billiard equipment realized this and while sponsoring other changes also transformed "pool" into "pocket billiards."
Altho not as old as the other games, three-cushion billiards or "three-cushions," as it is known, has gained tremendously in popularity since it was first introduced some twenty years ago. Three-cushions appeals to those who regard pocket billiards as an elementary game, because it enables the player to profit by good shot-making, allows him an opportunity of establishing a defense in a game against a stronger adversary and also involves the fascinating uncertainty of luck.
Before the second object ball is hit, the player must have previously struck three cushions as well as the other object ball with the cue ball. Calling for the constant use of angles, most of the leading players employ what is known as the "system" to chart their shots with a mathematical exactness that is made possible by the use of the diamond markings installed for that purpose along the border of the table.
"There is also this to remember about three-cushions," said world's champion Johnny Layton of Sedalia, Missouri, recently, "and that is the player is always thinking of three things while playing. First of all it is the next shot he will attempt, second he is considering how many points he has scored and, third, he will try to leave the balls in such a position that it will be difficult for his opponent on coming to the table to score."
As severe a blow as the economic situation has dealt to the growth of billiards of late years as well as the fact that many other games, particularly bridge, according to Willie Hoppe (the famous one-time "boy wonder" who started playing billiards at the age of eight), have been a source of great competition, still some sanguine hopes are held for the future. The change in social life, with men gathering at their clubs or fraternal organizations, instead of at the speakeasy, is viewed as a boon to billiards.
Most of the dominating figures in billiards at present have been prominent for years. Hoppe is forty-six, Layton is forty-seven, Welker Cochran, San Francisco's star, is thirty-seven, Jake Schaefer is thirty-nine, Alfredo De Oro, the Cuban veteran, is seventy-one.
A Young Player
But there is one young player who may yet occupy a conspicuous role in the carom games. Studious-looking, bespectacled Jasper (Jay) Nathan Bozeman, Jr., born in Amarillo, Texas, resides now in Vallejo, California. Winner of the national amateur three-cushion championship at twenty-one, he is now twenty-seven and is considered as one of the most "natural" players the game has seen.
Sharing his love for billiards with that for the outdoors, he spends much time along the streams of his native State, likes to pack a gun and stalk for deer. Auburn-haired Bozeman believes, too, that more young players should be attracted to the game and he hopes the sport will enlist their support as golf has.
What the game definitely needs, in Hoppe's opinion, is the key by which every other sport has flourished—youth and personality. Golf had Francis Ouimet and Bobby Jones; tennis, Bill Tilden; polo, Devereux Milburn and Tommy Hitchcock. In each case the imagination of the sports-hiving public was aroused as a new hero led the way.
(image of Layton and Cochran)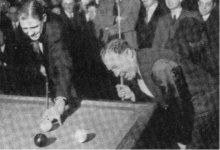 © International
Two three-cushion champion's meet. Johnny Layton (right) defeats Welker Cochran (left), the defending champion, for the world's title