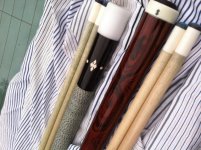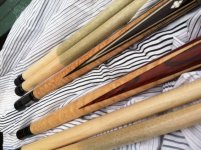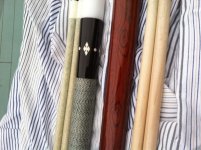 This is out of my private collection. It is a Ca$h cue made from a Davis blank. It has a 3/8-11 pin. The1st shaft is 12.68mm with a med ki-tech tip. The 2nd shaft is 12.4mm with a soft kamui tip. This cue, including the joint protectors, is made from top shelf wood. The cue was originally commissioned for Rusty Melton and if you know him, he can contest to how well this cue plays. That is why they rarely come up for sale. The total weight is 19.4 and 19.5, depending on the shaft being used. The cue has a good even balance. PRICE DROP 775.00
I think the blank was 400 and joint protectors was over a 100. This cue is like new only few hours play on one shaft other hardly any.
Price drop 725.00 that's 25 for shipping and 700.00 for the cue. This thing plays a lot like a SW, if you buy it and don't like it
box it back up and send it back and I send you your money back.
Send me some trade offers heck you never no.
Sold pending payment
Last edited: