♥ Hippie Hustler ♥
Silver Member
Okay, so in July or August of 2010 I had a young guy who was in the Army and had just returned from a tour in Iraq approach me about one of my cues where I play. He really wanted his own cue, and he really wanted the one I happened to be playing with that evening: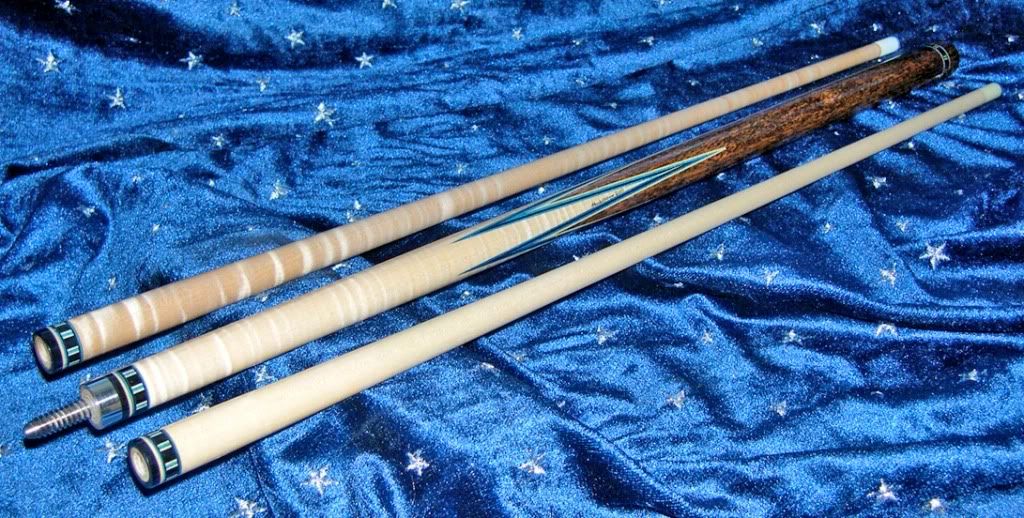 It was a Prather blank that Paul Allers, a cue maker on Whidbey Island, completed flawlessly for me. I wasn't super keen on parting with it, but the guy kept bugging me about it, and since I had lost my job a couple of months previous, I said okay. He never gave me a chance to come up with an asking price, and flat-out offered me $600 for the cue, providing I threw in a case for it, which I did...an original Instroke 1x2. He was a very happy camper.
Six or seven months later, he comes to me one night all upset about the cue. Says his 'friend' borrowed it, and brought it back to him complaining the points on one side are poking through the finish. Complains that whoever made it used faulty glue or something in the cue's construction. I told him that that was rather unlikely, as I know the folks at Prather build a solid blank, and Paul certainly would have done nothing to compromise that. All this, and he fails to bring the cue in so I can inspect it.
Over the next 6-8 months, whenever I see him, I ask if he has brought the cue in for me to inspect, and he just doesn't. After a while, I just put it out of my mind...as I am not his mommy, and should not have to run around after him to get the situation resolved. Mind you, I did explain that I had no obligation in this matter to him, as the cue was flawless when I sold it to him, and I had played with it for a year and a half with nary a problem arising...cue and shafts were straight as a rail the entire time I owned it, and Paul did any tip and/or conditioning of the shafts work on it exclusively.
I did offer to help him out with regards to getting it to Paul for an inspection, and to see if it was repairable or not...as I had already spoken to Paul about the cue.
So, today I get a FB message from the guy asking me if I wanted to buy the cue back. Well, first I don't have any cue-buying money available, and I know the cue is in bad shape, according to his account. He says he feels he over-paid for the cue originally, and that he'd let me have it for $100-200. I ask him as to who is going to pay for the repairs, if it is repairable. I got nothing.
I have no problem taking it to Paul for the inspection...even tho' his shop is about an hour away from me these days with the traffic on and off the island. I might even be able to work it out with Paul if in fact it can be repaired. I am just conflicted at this point if I even want to get to much further involved. However, I will allegedly get to see the cue tonight....almost 2.5 years after the initial complaint. I may well be out of it the minute I view it...may well be nothing more, sadly, than firewood at this point.
Any thoughts?
Lisa