AzB Gold Member
Gold Member
Silver Member
This was a case that sprang to mind after seeing John post a case he called "Chocolate Love" some time back. I contacted him with my ideas & he returned my call promptly (allow for him being on the other side of the world). He was real easy to work with & accomodating in helping bring my wishes to reality.
This case is a serious piece of leather equipment. Just looking at it brings the term high quality to mind, and when you feel it you know you were right. The leather is very thick & strong, but still feels pliant. The fit and connectivity is tight & secure. The hardware is top knotch in quality & aesthetics - in this case a black chromed finish, very nice. The stitching on this one is black against the brown tones. The leather color is tone on tone in luxurious browns. I asked for the bulk of the case - including all of the "handled" areas - to be rich oil tanned leather. The front & back center panels, the lid, and the id patches are done in a vegetable tanned leather that is just a shade lighter in color with an antiqued finish. John pulled the coloration off spot on to what I wanted. All of the snaps are very solid & utile, and the zippers work efficiently & with ease. You don't have to force or fight them, just give a gentle steady pull & they move smoothly. As you can see, I was interested in providing for a wealth of accessible, available, useful storage, and again, all is well. The pockets are well made, well sewn, plenty large, and you can get to & use all the space provided. Love the jp pocket w/ magnetic closure. The shoulder strap stows nicely with the provided snapping leather rings, and the towel ring placement provides excellent symmetry for threading the towel thru the carrying handle and/or shoulder strap when carrying.
As for cue protection, there is none better. This case has the natural rebound interior which provides great padding & the benefit that the pieces tend to "pop gently up" as you unstow them. Each butt & shaft (and this case is set up to facillitate 3 butts/4 shafts or 2 butts/5 shafts) stays separated from one another even above the sleeves - nothing touches. The parts go in easily, but snuggly, and there is no reason to concern yourself with any of the silly abrasion concerns that have been spouted. No problem. One of my cues is a jet black Gaboon Ebony butt sleeve. I'd notice if it was being scratched. There is definitely no concern for the safety of your equipment when it is in this case.
It's not a light case, but I didn't place any value on that for my purposes.
If I would have done anything differently, I may have had the zipper on the center pocket extend to the bottom on the "handle side" for access clear to the bottom - straight in, but I've not felt at any loss for it. I have LOTS of storage room - and I took stock of what I wanted from many years of case use.
If I have one suggestion for John in improving the interior it would be this...
Once in a while, the top of a sleeve will "lay over" when you are putting a component in, causing you to have to "work it in" a little. Nothing major at all. If the interior sleeves were taller, allowing an average person's finger to reach it easily, the material could be pushed back & ease installing the butt or shaft at those infrequent times. It's been mostly the butts that I've experinced this with - and only sporadically.
John provided an innovative "plug" for one compartment that holds my 2 piece Lomax jump cue butt up with the rest. It has a long flap that extends approx 6 inches above the sleeves, so you can push the flap down into an adjacent sleeve. This gets it out of the way - almost invisible - but would be easy to remove if you wanted to do so. Nice idea! And it does stay put.
Lastly... I wanted to personalize the case subtly with just my 1st name, "Chris". John had me hand write my name on a piece of computer paper & fax it to him. Then they laser engraved/tooled my hand sig into a circular, inset, patch centered on the middle pocket. They dyed the patch like the antiqued case panels so that it is very subtle.
I'm very happy with the whole process of designing this case & interacting with John to get it moving forward, and the case that I received as a result - and rec'd ON TIME as advertised - is everything I hoped for & then some. It is a very, very fine piece of work.
Here's a few pic's. More are available in the Cue Gallery posting from John. (Gotta love it when the maker is obviously happy with the results.)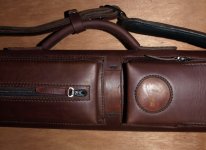 Last edited: