AzB Silver Member
Silver Member
Jewett's interference ball shot system (described in Byrne's book, among others) describes how to shoot through a ball frozen to the cue ball.
Is this a legal shot or am I going to have VNEA league players go ape on me and call a foul if I use this?
At what point is it illegal? IOW, if I hit STRAIGHT into a frozen combination (i.e., shooting the object ball straight toward the side pocket in the picture below) that WOULD be a foul, correct?
Any VNEA referees on here? Thanks!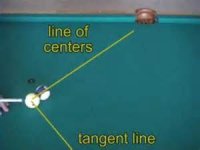 Last edited: