For your consideration is a custom ferulleless shaft made by Tommy and company at Cash Cues. This shaft was made for a Randy Mobley cue I had earlier this year and also fits perfectly on a Schon cue. This shaft is in like new condition with zero dings and scratches, it has about 20 hours of play.
The shaft is over $200.00 new from Tommy and is for sell for firm
SOLD Pending Shipping to Canada
shipped within the continental U.S. via FEDEX 2-day. I am not interested in trades as I have a few of these and many other shafts.
Below are pictures and specifications. Thanks for looking.
Joint Type - Piloted 5/16-14
Joint Ring - Fine white ring (Not sure of the material)
Joint Diameter - .840 inches
Nipple Diameter - .50 inches
Tip Diameter - 12.9mm
Tip Type - Cash Cue pressed Triangle with fiber pad
Weight - 3.630oz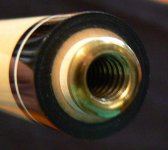 -don
Last edited: