This cue is a thing of beauty. In fact, it looks like it has never been played. I haven't played with it other than to test it out on a couple of balls. Kept in a closet since I've owned it.
Butt is in perfect shape, has a leather wrap, big Timmy radial pin, solid ivory joint, and weighs 15oz. Hoppe ring and joint are ivory as are all the ferrules. Ivory deco rings at positions D and E. Dark stained curly maple forearm, ebony points and butt. 6 points are all same height and even, 4 veneers each (out in – Black, Red, Natural, Red)
Shaft 1 – 3.9oz, 13mm tip, ivory ferrule, test hit elk master tip.
Shaft 2 – 4oz, 13mm tip, ivory ferrule, very lightly played (a couple of racks text hitting) Moori Medium tip.
Comes with new style TS joint protectors for shafts and butt.
Asking price: $2800 OBO
(SOLD SOLD SOLD)
Plus $30 for shipping/handling/insurance (paypal preferred - add 3%)
NO TRADES!
R,
Greg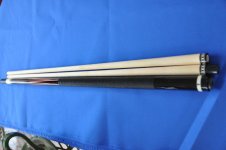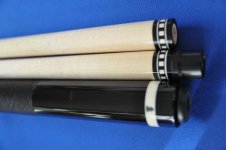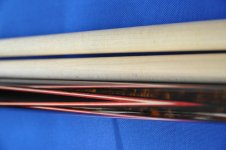 Last edited: