AzB Silver Member
Silver Member
I received my new case from Joe Whitten today, and just had to show it off.
I had ordered it just before SBE, after talking to Joe, and discussing a custom design I had in mind. Of course it was an idea NO ONE had ever approached him about, but after giving my input, he agreed to try to produce it as I requested.
After it was completed, he called me and asked if I had a MILLION $ BILL for the display window on the case.....he said it turned out great!! I think so too!!
2X4 Black Lizard with smooth black accents; small, and large pockets (with jump butt compartment); carry handle, and shoulder strap. Note the more rounded design of the body of the case, I liked that feature! This case is
LIGHT!
I've been using a Instroke 3x5, and carrying it around all day, was a chore! With 2 cues, 4 shafts, a jump butt, and all my junk, this feels about half as heavy as the Instroke when it was fully loaded.....I may try to find a scale for a definite weight later.
<<<<WITHOUT FURTHER ADO!>>>>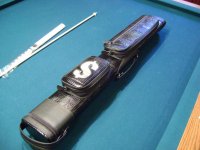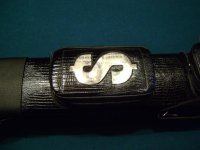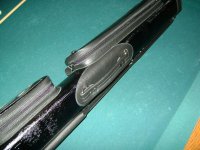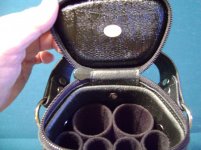 I think when I carry this in, I may need some more backup in the billfold....but at least I won't be
$ short
when I arrive!!!
By the way, Joe INCLUDED the dollar bill! Thanks, Joe! I'm sure that million dollar bill is just over the horizon!:thumbup: