AzB Silver Member
Silver Member
The Clash or the Titans consists of 8 invitational qualifying rounds. The winner of each round qualifies for the $20,000 winner take all final event.
June 8th & 9th - Justin Bergman faces Roberto Gomez in a Race to 50 over 2 days.
Will Justin Bergman become the 1st American to earn a spot in The Clash it the Titans Finale or will Filipino, Roberto Gomez claim the 3rd spot?
Make sure you tune in to
www.SullyVisionTV.com
to watch!!
Remember, the players will receive 20% of the stream profits.
**Any and all bets the players make are kept confidential**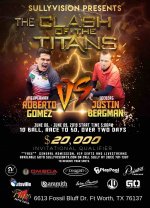 Sent from my iPhone using
AzBilliards Forums