I belive this cue is from the Masterpiece series.
Ebony with 12 Burl bridged Points (6 in Forearm & 6 in Butt)
Segmented Tamarind? Spalted handle
Fancy dot dash ringwork in burl rings at all points A B C D & E. 2 Shafts. First is 4.0 oz and full sized (I would guess 12.75-13)
Second Shaft is 3.3 oz and looks about the size of a Meucci.
Butt weighs 15.1 oz
J/P included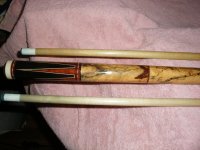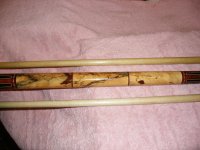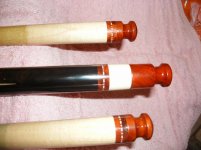 $400 obo Shipped Conus
Last edited: