AzB Silver Member
Silver Member
I bought this meucci a few months ago from a friend.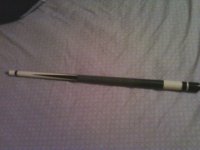 I really like the looks of the cue, but I have noticed some potential problems that I need some professional opinions on.
The points feel as if they are raised (fingernail catches when I rubbed it across the edges), does this mean that the cue is about to come apart? And can this be repaired?
Also, the shaft has a roll to it, and I don't really like the ferrell. Can someone make me a shaft with matching rings without having to use the rings from the original shaft?
Thanks in advance,
Koby