AzB Silver Member
Silver Member
PPV-May 20-24th 2020 Buffalo's Pro Classic-$13,000 Added Pro One Pocket & Open 9 Ball
May 20-24th - 2020 Buffalo's Pro Classic-$10,000 Added Pro One Pocket & $3,000 Added Open 9 Ball
Here you go guys one of the BEST Pro One Pocket events of the year.
Wednesday the 20th is the One Pocket Hall of Fame Induction Ceremony
Thursday the 21st Pro One Pocket Calcutta at 6pm & 1st Round Matches After
Another AWESOME event from PoolActionTV & Buffalo's Billiards in New Orleans.
16 World Class One Pocket Players battle it out for the biggest payday in One Pocket.
$42,000 prize fund!
1st place: $17,000
2nd: $11,000
3rd: $8,000
4th: $6,000
100% payout.
No green fees or table charges $10,000 in true Added money to the One Pocket Prize fund.
Huge Calcutta with 100% payback no money taken out.
Past events at Buffalo's have had 50-60k range in the Pro One Pocket Players Auction.
Open 9 Ball event is $3000 Added this year.
Final 16 players is single elimination.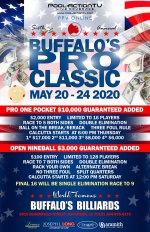 ​
Last edited: