AzB Silver Member
Silver Member
Hey guys, I have a couple of questions in regards to the Bob Frey sneaky pete butt I just acquired and was hoping to get some help here.
First off, I have to say that the cue hits great and the balance is perfect, I fell in love with it the moment I picked it up (fwiw, it's currently married to a Cynergy 12.5 radial). We don't get a lot of custom cues in my part of the world, so I have almost zero experience with those, even though I've had over a dozen production cues over the years from various well known brands.
Ok, so onto the questions:
1. I attached some pictures and a video (I can add more if asked). I guess my first question would be if anybody could provide some info on the cue or the various materials used? I see it's a radial pin (though I don't know if it's stainless steel, titanium or something else?). I suppose it's a phenolic joint? I see it's birds eye maple, but what is the other wood used in the butt (maybe ebony)?
(sorry for the poor quality of pictures, if needed I can take better in daylight)
2. Here's a video of the joint. Are we seeing anything that looks worrisome or does everything appear to be kosher?
https://youtube.com/shorts/xLD3ePTF9gc
3. When the shaft is screwed, there is a tiny gap for about one third of the full circle between the shaft and the butt. I tried to capture it in the blurry image (it's the best I could do, it's only visible if the light hits it just right). I've only played about half an hour with it and from what I could tell, it didn't affect the hit and it didn't produce any weird sounds or anything. The shaft also seems to have screwed on fine. My question is - is this something that should worry me long term or is that something that happens fairly often with custom cues?
(I'd like to emphasize that there are no cuemakers where I live and I can't have any further work done on it)
4. I took a picture of the bumper. Could anybody tell me (either from that photo or by just knowing more about Bob Frey cues) what sort of cue extension would work with it? Also, what sort of weight bolts (though I don't think I'll be adding those, but can't hurt to know if anybody knows). But I'm mainly interested in the cue extension. Would any of the mass produced cue extensions fit Bob Frey cues? It's easier to obtain those in my part of the world than trying to get a custom one made.
Thank you all and sorry for the long post.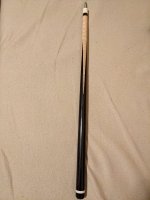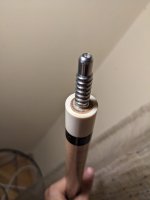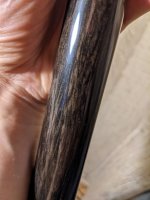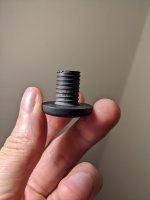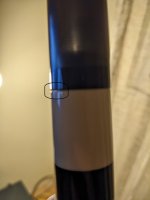 Last edited: