I have a wrapless segmented cue made from buckeye burl and ebony, it has a 3/8 X 10 pin and one shaft.
UPDATED
SPECS:
Total length is 60.2" from top of tip to bottom of bumper
Total weight is 19.75 ounces
Tip is 12.21mm
Collar diameter is 21.11 mm
Shaft is 30" and 3.5 oz
Butt is 30.2" to bottom of bumper and weighs 16.25 oz
No weight bolt
I typically shoot with a 19oz cue that's 58" and this cue has about the same feel just a longer reach
Cue is in excellent condition, has custom joint protectors ( has a second for an extra shaft if you get one) and has a firm crisp hit (wood to wood joint-see pix).
No dings or scratches at all; rolls straight together and apart.
I'll add full specs later tonight.
This is a beautiful custom cue and will make anyone who doesn't prefer a wrap a great player.
$600.00 shipped CONUS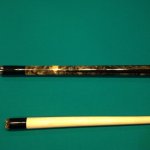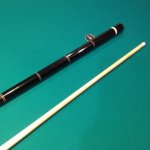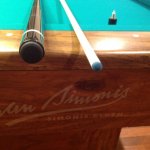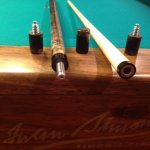 Thanks
Dave
Last edited: