I have put together a Teechip store to sell some of the classic T-Shirts and some prints that people ask about from time to time. The way it works is orders are taken for a week then whatever sold is printed and shipped. Shipping is quoted by teechip at 7-10 days after the sale ends.
I have done two runs of shirts previously and everyone was happy with the quality and shipping so now I am opening it up to prints as well as shirts. Doing it this way means I offer 8 colors of shirts in sizes Small to 6XL for $23 ($26 for big sizes) and prints in 11x17 ($15 each), 16x24 ($25) and 24x36 ($35).
If anyone has any feedback on the store I would love to hear it. Its not perfect. The one flaw I see so far is it looks like each item is its own transaction which is kind of clunky but the system is the only way to offer so many options without spending a fortune on stock.
Store is here:
https://teechip.com/stores/theactionreport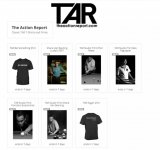 Last edited: