It's time for me to to look for new owners of my prized collections who will preserve them like I have. My family has a good chance of migrating within a year, so I'm limiting the cues that I will be carrying with me.
First one is one of my four
VIATTORRE CUSTOM CUES
collections, the
YELLOW HEIHO
. This has a very special place in my heart for several reasons:
*This is one of the handful SOLID-BUTT Viattorre custom cues ever built as most customers want to be artistic when it comes to custom cues. However, on my part, I prioritized playability and performance hence I asked for solid-butt cues which we started with the solid-butt Purple Heart project, the "Purple Heart Heiho", in 2005 wherein the project took 15months to be completed as constructing a solid-butt cue is more delicate than making a segmented one to keep it straight. The outstanding feel and playability of the initial uncored "Purple Heiho" gave way to the second project, the "Yellow Heiho"
*Viattorre is one of the the firsts, if not the VERY FIRST, to ever use this very exotic wood, which we had called KIIROI or "Yellow" in Japanese, for cues. The wood's color is naturally bright/rich yellow like that of Post It papers or a lemon. The tight-grained wood is also naturally very light and plays and as hard as a Purple Heart. It also has a high "PING" like a Purple Heart. There are only a handful of us who own a Viattorre with Kiiroi as component of a cue
*As to my knowledge, there are only 2 solid-butt Kiiroi built by Viattorre: the "Yellow Heiho" and the other is owned and used by Jackson Tan, the owner of Viattorre. The differences between the two: Jackson's joint collar and butt ring are ivory while mine are black linen and Purple Heart
*This is one of the last Viattorre Custom Cues built when Jackson Tan, the owner, retired from cue making in June 2007. This is one of the 3 last few Viattorres that were personally handed over to me by Jackson on June 19,2007.
YELLOW HEIHO (USD750)
DATE SIGNED: 2007
LENGTH: 59" (29.5"x2)
BUTT WEIGHT: 14.180 oz (with weight bolt)
SHAFT WEIGHT: 4.197 oz, old-growth Bird's Eye Maple
TIP: Triangle, medium-hard, 12.75mm
FERRULE: Ivorine III, ½ inches
TAPER: modified European
JOINT TYPE: 3/8"x11 brass pin; flat faced w/ black linen fiber collar, wood to wood contact
RINGS: Kiiroi-Purple Heart at AB, Purple Heart at E
FOREARM, HANDLE, & SLEEVE: Kiiroi
BUTT CAP: black linen fiber
EXTRAS: Kiiroi Joint Protectors
OTHER NOTES:
How it plays:
Like the other Viattorre Custom Cues built, this cue is very easy to play with.
Hits crisps with lots of feedback (which I will miss)
The solid old-growth BEM shaft is low-deflecting.
Balance is great
It's condition:
The cue rolls straight together and apart
The cue's automotive finish is still fresh and still has a deep gloss since I detail it often, like I do with my car, and I only use thick microfibers to wipe it. Some of my billiard buddies tell me that the cue still looks new
The shaft and the butt's rings are not aligned even when I first got it.
There is a minor ding but is hardly noticeable, almost invisible, because of the cue's light color. I have to hold the cue at least 6inches nearer and at an angle to see the ding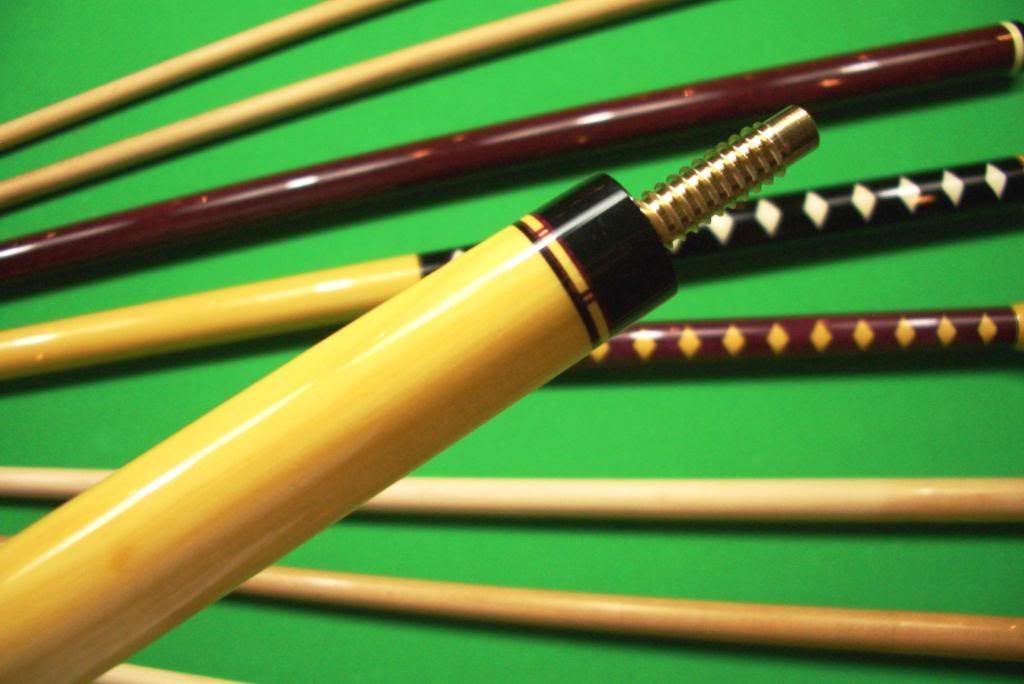 The Yellowness of Kiiroi
The Entire Cue
PAYMENT & SHIPPING:
I accept payments via
PAYPAL
. I will also consider money transfer via
Western Union
. For those who will visit MANILA, I can accept cash and I may be able to deliver the items personally so that you can scrutinize the items.
Shipping cost and insurance shall be taken care of by the buyer. Items will be shipped via UPS. Let me know your zip code so that I may be able to compute for the shipping rate.
For inquiries, you may get in touch with me at
sygfrid@yahoo.com
Last edited: