TesticularCancer Survivor
Silver Member
Here is a proposal about pool tables from the NRA
National Restaurant Association
They propose to discontinue shared use entertainment
pool tables is listed
I haven't heard of any pool room reporting a covid outbreak more severe than rich people partying with out of town entertainment.
How is discontinuing a pool room saving anyone?
"Dont shoot the messenger" argue among yourselves, its just a message
any legal people from the pool community know about the following proposal?
proposals are different by state, but closing a pool hall for no reason....
https://restaurant.org/downloads/pdfs/business/covid19-return-to-work-guidelines-for-foodservice.pdf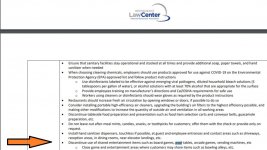 Last edited: