AzB Silver Member
Silver Member
This event guys is part of a new series of one pocket events featuring the top players on the planet from PoolActionTV.
It's called the Champions One Pocket Series it's kind of like a king of the hill.
Winner of Danny and Corey gets to play Francisco Bustamante next.
There is no entry fee on these matches. The winner will get $4,000 and another match and the loser will get $2000.
Stay tuned for more exciting details coming soon One Pocket fans.
PS... I think the action on these matches will be hot and heavy no telling how much will be on line by match time.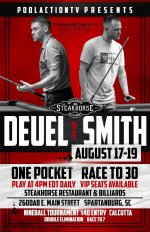 ​
Last edited: