Best Tips For Less
Gold Member
Silver Member
UltraSkin's BLACK or IVORY
Sale is in USA only
New Pool Season - DOUBLE mix or match for Cue Makers and Cue Repair People.

You can now mix or match both the Black UltraSkin and the Ivory UltraSkin.

I have sold over 1,000,000 of the Black UltraSkins in the last 8 years
Hardness options PRO, VS, Soft, Medium, Hard and HH

After introducing the new IVORY UltraSkin last month I have sold thousands to hundreds of Installers. The Feed Back has been great. Installers have been letting me know The Ivory plays a little Softer than the Black UltraSkins and holds a LOT of Chalk. The Tanning process and adhesive between layers is different.
Hardness Options - Soft - Medium - Hard.

This sale is NOT on my Web Site

Mix or Match both the Black and the Ivory UltraSkins for the same price.

10 for $25.00 - 20 for $50.00 add $2.70 for shipping

Paypal
Tcue@aol.com
-
Please pay under goods and services so I get your mailing address. In Paypal notes please give me the break up of your order.

[/B]If you don't specify Ivory in order, Black will be shipped. Confused? Email me.

Thanks,
Tom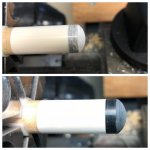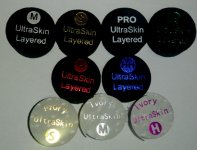 Last edited: