Questions for those who know more than I do:
This was on my old cloth, and the result of an attempted jump with a Lucasi jump/break hybrid cue. It has a phenolic tip that spreads out a bit and is likely 14 mm in diameter. (Edit: photo removed due to size and irrelevance.)
Is it totally a problem in technique that results in damage like this: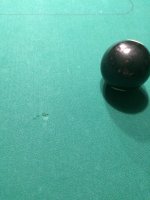 Is there something about the cue that makes this more likely? I have since changed fabric to a Simonis cloth, and I have banned jumping until I know more.
Your knowledge and assistance would be greatly appreciated. Am I just driving down too far and too hard? Am I at the wrong angle? Is this kind of damage indicative of a particular fault? Should I give up pool and take up croquet?
Ignore that last question.
Thanks.
Last edited: