Fish of the Day
Silver Member
As tip sizes trend smaller I'm sure people are finding that smaller tips work better if they're a little more "rounded". Here's why.
You need an arc on your tip that spans a little more than 60 degrees (1/6 of a whole circle) in order to use maximum spin without hitting right on the tip's edge. Every tip width doesn't do that with every tip curvature.
Here's a pic of my own (embarrassingly dirty) 10mm tip compared to the curvatures of different size US coins (with 60 degree arcs marked on each). The only coin that's "round enough" to encompass 60 degrees in less than 10mm is a dime (far left in the pic). Any flatter than that and I'm hitting on the tip's edge too soon.
The dimensions above each tip are the minimum tip widths necessary with each curvature in order to use maximum spin without hitting on the edge of the tip. For example, a nickel shape works best with a tip more than 11mm wide - a quarter shape (pretty flat), more than 12mm.
pj
chgo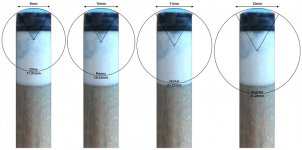 Last edited: