Pool Stream Advocate
Silver Member
Many of you will remember the AZ Billiard's Stream List thread entitled
"Live Stream Sites - Update"
I created back on 12/29/08. You may also recall that I was "called away" for some time overseas and have noticed that it has remained dormant since (the last post being 07/26/09 by my friend and yours Barry Doc).
Well, I had lots of catching up to do both on the home front and with my businesses so it was pretty low on my priority list. Once I did get to it, I noticed the pool streaming world had "blown up" so to speak--which is a good thing. Most of them were using ustream so I decided to concentrate my efforts there and I'm glad I did because the Dashboard and Community features thereat cut right to the chase. I spent seemingly countless hours, strike that --> days -- gathering the sites.
If you follow what I'm about to post here you will have those sites in just a matter of minutes and be able to see what is streaming by clicking on just one tab
:thumbup2:.
A few things I wish to point out before proceeding. Many of these streamers use ustream to broadcast but have their own sites. Please show your support by viewing at those sites.
Always check the front page of AZ under "Streamer Central"
before going to ustream for those streaming elsewhere or are on PPV.
Here we go:
1. If you are a member of ustream, proceed to #2. If not,
go here
and
"Sign Up" in the upper right hand corner
. It is recommended you use your AZ username for instant recognition as most viewers and broadcasters are themselves part of the family.
2. Go
here
and click all the blue icons you desire to follow until they read "Stop Following". In so doing, you will notice that some of those on the list do not broadcast. They are on the list because they are very active viewers of pool live streaming and, by following them, their activity will appear in the "Feed Manage" portion of your "Dashboard" (See Paragraph 4a below). I have gotten many new links therefrom; therefore, I recommend you add them as well and continue adding others that you feel are active enough to warrant you following them. There are 18 pages of them but it will only take a few minutes.
3. Once that is done, go to the top center of the page and click "Dashboard". If anyone is streaming they will appear under "Live Shows I'm Following".
Bookmark this page
. I cannot overemphasize how much of a time saver it is. It allows you to quickly scroll through what is being streamed without continuously searching ustream, going in and out of links, or PMing people/creating threads asking if something is being streamed or where such and such a link is.
4. Become very familiar with the functions on the Dashboard page--you'll come to love it.
a. Just below the Dashboard feeds and to the left you will see "Feeds Manage". This will tell you what activity has taken place that was not recorded that may be of interest to you.

b. To the right of "Feeds Manage" you will see "Upcoming Manage". For some unknown reason, most pool broadcasters do not religiously announce upcoming events which would appear here. It's worth a quick glance though as one never knows in regards to this one.

c. Lastly, just below "Upcoming Manage" is "Recorded Recently". The name says it all. This is a great feature as it only contains those you are following. You can quickly find all the recent recordings you missed or want to see again without having to go to a bunch of links to find them. This, in conjunction with the Dashboard (Paragraph 3 above), really make this page into what I call Streaming Central = one page with all the action.​
Another way to gather more links: Occasionally, when at a stream, I will left click on a username I know to be a proponent of pool streaming, go into their profile, and click the "following" number (located directly under their avatar as shown below) to see if something new can be added in the same manner as done here. I have gotten quite a few sites that way.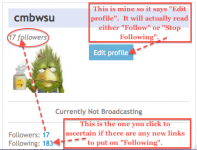 Visit as many streams as possible and show your support. We love to watch, they need the hits to garnish ustream pop-up monies, and the sponsors need their products out there as much as possible. While there, it wouldn't hurt to do a little recruiting of more folks to join our domain--AZBilliards
.
The streams are getting better and better and are making a positive statement right now -- something our sport has lacked for a long, long time. I see live streaming as an excellent avenue to bring more people into our sport. I hope you feel the same.
Last edited: