I have come up with a simple and innovative idea to get the perfect rack every time, there is no need for complex triangles for tapping tables. No matter what table you play on this device with give you a perfect rack.
"Magic Ball Rack"
Magic Ball Rack is made from a special grade paper and is thin enough not to interfere with the play of the pool balls. Each pack comes with 2 different configurations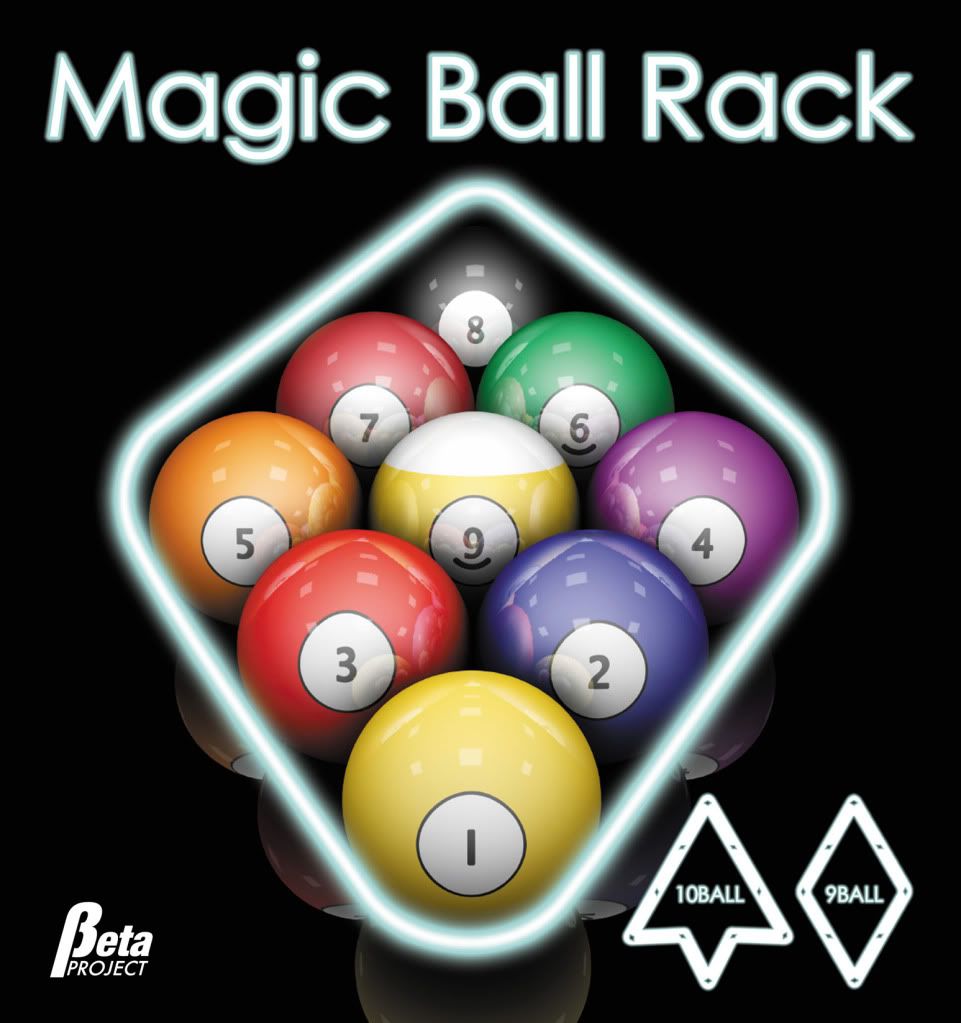 • 9 Ball (Pictured)
• 10 Ball (can be used for 9 – 10 Ball)
Step 1
Start by placing the template on the footspot, please make sure the template is aligned correctly
Step 2
Start to place the balls in to the template, for 9 ball I suggest you place the 1 ball first and then opposite ball. This stops the template from moving or twisting
Step 3
Place the remaining balls into the template in any order; don't forget 9 in the middle 
Step 4
Check all balls are touching each other, sometimes it will just require a little push and the balls fall into place. There is no need to tap the balls in.
Step 5
Break and enjoy a perfect rack
Step 6
Remove the rack after the break; if a ball is slightly sitting on the edge of the rack you can still slide the rack out with ease. Only if there is a ball sitting directly on the rack you will leave it in place until that ball has been moved.
Construction
Magic Ball Rack is made as a disposable rack; this should last well for 3-4 months even longer if you really take care. It has been constructed from a special paper as it is thin enough to hold the balls in place whilst not affecting the play drastically. Through my research I have found this to be the best material for the intended purpose.
Magic Ball Rack is light and can be carried anywhere; carrying around other traditional triangles or the newer style racks can be a pain, not with Magic Ball Rack. It weighs less than a piece of paper and performs better than other racks on the market.
Benefits
• Magic Ball Rack gives a perfect rack every time, you can rack in 15 seconds or less
• Saves table wear on the cloth from using other triangles
• No need to Tap the table and damage the table
• No need to carry your own triangle with you when you play
• Pool Hall owners can eliminate triangles altogether using the Magic Ball Rack
A fellow Az'er Danktrees recently tested the Magic Ball Rack whilst he was here in Hong Kong 2 weeks ago.
Kamdaswani has also tested the Magic Ball Rack with good results
Blowfish has also helped with the development of the Magic Ball Rack and testing
Orders
Magic Ball Rack will be available soon,
Wholesale enquires please feel free to contact me on
troyroy78@gmail.com
Coming to a dealer near you soon
Last edited: