Custom Junkie
Silver Member
Hi all AZers,
I created this thread to keep a record of my trainings alongside with my new coach. I've previously created a thread on stroke analysis but was not of much use because the useless me couldn't get a video uploaded :embarrassed2::embarrassed2:
This time round, I would make use of some text and pictures, some analysis done on my own to actually note my learning journey now and hopefully anyone with constructive comments and criticisms would help me!
1st Day:
Today, as I've played pool for less than 6 months and I know that I want to play seriously thus I engaged the help from a Pool Coach.
Short introduction:
Marvin Lim is Singapore's No.1 Seeded player, SEA games gold medalist for Snooker. I engaged Marvin's coaching as I've gotten various comments that Snooker would be a good game to discipline myself for strong fundamentals which will aid me in pool.
My lessons today covered:
Grip of cue, Lining up with the shot, stance, stroke, high elbow (locking).
Two pictures of the day:
[/IMG]
Some analysis done on the pictures:
Pretty obvious that my head, stroking arm, chin is not in line with the cue and line of shot. Will be working on that.
[/IMG]
I believe I am still quite tensed up and not relaxing thus not being able to get lower... Will be working on that too.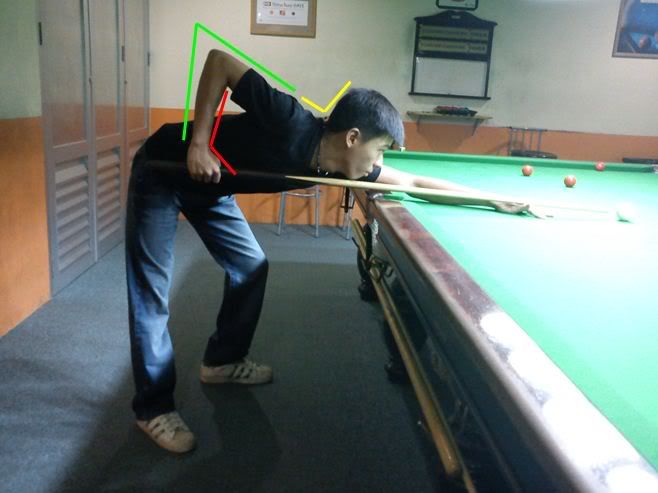 I thought that I have good head position with a slightly tucked chin, a good 90 degree on the elbow and a very lousy wrist.
A major boo-boo for me is that I am always unable to relax my wrist...
Cheers,
Shaun