One-Ball Champ
Silver Member
At long last I received my Schon Balabushka tribute cue. Here is my review on it.
The Schon Balabushka tribute is the brainchild of AZ member, DeanC. he posted this limited (to just 7) production tribute cue on here before the ban on selling new cues. I have wanted a Schon since I was a twenty year old know-it-all back in the mid 80's. Schon was reserved for the pros and the wealthy. I had my trust Meucci. But someday I vowed to get a Schon. Also, being a child of the 80's, it was an undeniable rite of passage to want a Balabushka due to the movie, "Color of Money." ...So, today all those different facets of my life converged on this one cue. A Schon tribute to balabushka. Worth noting is it's the first tribute ever by Schon. Many custom builders use the Bala tribute as a sort of stepping stone to creativity. In fact it's rare to see a builder that has not produced a few "classic" styled 4 point, 4 veneers in his history.
Behold the Schon Balabushka tribute cue!
The cue is a beautiful tribute to Balabushka. The butt weighs in at 15.2 ounces. The two ivory ferrule 13mm shafts weigh 4.4 and 4.5 ounces respectively. Bring the cue to a 19.6 and 19.7 oz weight depending on the shaft. And could easily be brought down to 18.3 or so with a lighter shaft. The linen is genuine courtalnd white w/ green spec wrap.
The points are Schon all the way through (see pictures). They are rounded points wich actually give this cue a very modern look despite it's classic style. The inlay work is perfect, the cue shoots lights out. When I received this cue I was told by Dean that Schon would be making one more Bala tribute. This time a total of 12 (I think) would be made. I declined the offer to leave a deposit on the next one as this particular tribute satisfies all my hopes. I don't want it any more or less ornate. I don't want it with different color veneers or points. This one is perfect for me.
The cue is obviously a tad heavy at 19.6 ounces, but has a very nice hit. At this weight the cue tends to get some momentum on it's own, but since the cue is so well balanced and constructed this is a plus. The courtland wrap provides a very distinctive feel.
Personally, I would like to thank Dean for making this tribute a reality. The success of this cue is belongs to Dean as much as it does Evan Clark. Without Dean's input (and possible begging) Evan may never have made this cue.
Pics follow. Drool my friends...drool. It is literally better in person than it is in the pictures!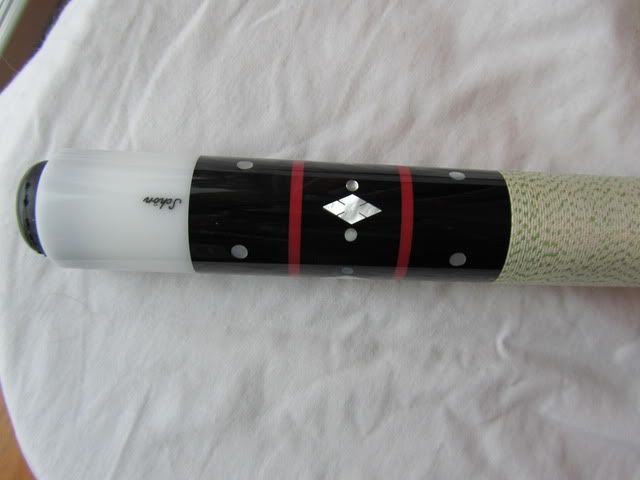 Last edited: