Pool and Snooker Railbird
Silver Member
Last night's match between Shane Van Boening and Francisco Sanchez Ruiz was intense and pool at its finest. Right out of the gate, Shane runs a 5-pack, leaving Francisco benched, but a few errors by Captain America allowed Francisco to win 8 games in a row, and this time, it was Shane who was benched.
During this match, the entire audience was glued, standing room only, sweating these two champions. I have to say it's one of the most exciting matches I've seen in a long time, but what made it better for me was the commentary.
Nick Schulman, who used to play pool when he was a young'n in New York City, knows the game well and its players. He is very comfortable in front of the microphone with his experience in the poker world commentating. There were no awkward moments or bad calls. There were no uh, um, or other utterances. When Albin Ouschan and Jayson Shaw were in the booth with him, Nick led the conversation, bringing up the subject matters, and it was so informative. You could see that Jayson and Albin let him drive the commentary because he knew what he was doing.
To add a little color about Nick, as a poker pro, he has accumulated more than $8.3 million in live tournament earnings. Although the 35-year-old poker pro is primarily a cash game player, he has won several
World Series of Poker
gold bracelets and a
World Poker Tour
title. Oh, tomorrow is his birthday, and he'll be 36. He sure is easy on the eyes, speaking as a female.
Of course, I need not throw flowers at Jeremy Jones in the booth. We all know he's a natural. Not only is he current with his knowledge base on the players and their backgrounds, but he can foresee a play coming up and usually calls it right each and every time.
Jeremy and Nick, a Dynamic Duo in the booth!
Nick Schulman's first major gig behind a mic was alongside veteran host Ali Nejad covering the 2016 $300,000 buy-in
Super High Roller Bowl
for
CBS Sports
. His mix of strategy insight and breezy banter was lauded by fans and fellow poker pros alike, with big names like Phil Galfond and Mike Sexton taking to social media to sing his praises.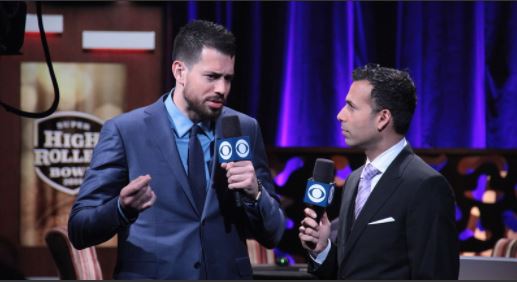 Last edited: