Just had to buy this never having seen anything like it.
Has the old brass joint similar to the Rambow's, Ivory ferrule, ebony butt cap, bumperless, with a mother of pearl inlay I presume over the butt screw. Checkered rings with a bunch of different woods.
Presuming it is at least early 60's vintage, maybe earlier?
Anyone have any guesses for who made it?
I'm not very knowledgeable of makers from that time period, but of known makers I was guessing maybe Doc Frye or Abe Rich. After doing this research, I thought to check where the seller who owned it for decades is from, and he happened to be only 15 minutes from Feasterville, PA where Doc Frye's shop was, for what that's worth. I was just guessing Doc Frye as I saw some examples where the butt cap and joint looked sorta the same, though there are things that dont match what Doc Frye cues were characterized by. After I got it I went back and asked the seller if he knew anything about where it came from......he said he couldn't remember but that there was a sticky note on it with the name George Britner (which seems would have been way earlier).
Also curious whether anyone has any idea how rare it would be for a particular maker to have that many types of wood laying around that went into this cue....
Thanks much for any info or guesses.
View attachment 506329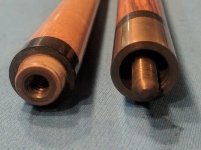 View attachment 506330
View attachment 506331
View attachment 506332
View attachment 506333
Sent from my Pixel 2 XL using Tapatalk
Last edited: