AzB Silver Member
Silver Member
Starts Today 5pm cst
Due to concerns of the recent covid-19 virus cancelling many of our events PoolActionTV will be showing encore replay loops of awesome matches everyday until further notice.
Starting Tuesday 5pm central Francisco Bustamante vs Corey Deuel One Pocket Action Match-Race to 30 Replay.
Following that match we have some of the best of the best Derby City Action Room matches.TBA
Included with Premium memberships or two week passes to watch $19.95 available at PoolActionTV.com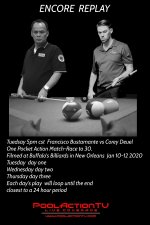 Friday 5pm cst start
Filmed at The Aramith Action Room at The Derby City Classic 2020
The Lion Alex Pagulayan vs High Stakes Pro Poker Player Jean-Robert Bellande.
Super High Stakes One Pocket Race to 5, JRB gets 14/4 13/4 handicap.
Following that on Friday another encore presentation from 2015 DCC Action Room.
High stakes Pro Poker Player Johnny World Hennigan vs Dennis Orcollo
playing high stakes back pocket 9 ball in a super exciting match that you don't want to miss.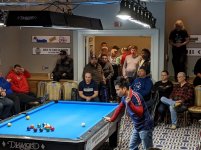 ​
Last edited: