Porper B q lathe manual (lathe pics added)
I picked this up today... 10-31-2017.... If no one has a manual, can someone tell me how to operate the taper set up? Do you have to disconnect something so the cross slide travels freely as the feed screw runs? I have posted 3 pictures of it.
Also. what is the going price for these on the used market? I put a dead center in the head stock and used my magnetic dial indicator on it and it shows out .002
Does anyone have a manual for the Porper B model Q lathe for sale or that you can make copies to email or print and mail? Where does one buy tooling for it? Standard tooling parts fit? Thanks for any info...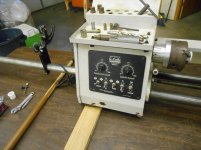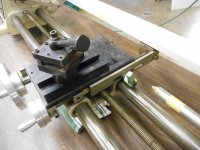 Last edited: