Orbis Non Sufficit
Gold Member
Silver Member
I've done a good amount of research on Rambow and this is the ONLY advertisement for his stand-alone cue business that I have ever seen.
(probably because it was very short-lived)
And it has a blatant typo ! LOL
For $15 I am willing to print enlarged copies onto 8.5x11 photo stock (with no watermarks) if anyone would like a copy, let me know.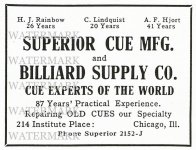 This is from December 1921