...and I get all da rolls
Silver Member
I can not cope with my conscious mind. I can't generate enough focus, or whatever. That results in what I call mental bloopers, slight and rapid moments of loss of concentration. They lead to me missing pretty easy shots. I would call myself pretty decent player overall, "been there done that", I can perform almost everything you need to do on a pool table, and I know a lot on mental side of the game too. Yet I lose focus occasionally, I see no other reason for stupid misses I make sometimes. I tried many things, apart from playing with headphones on. I will try this in practise, hoping music could block my conscious mind from distracting my play.
The straw that broke camel's back occured last week during a local tournament. I missed a money ball which, I would say, I'm supposed to make 99 or 98 of 100. Probably now I should bring my estimate down to 90. The 9 is not on the rail.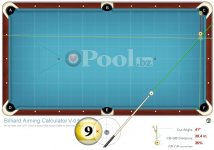 It was a ridiculously tough match, I managed to come back from 2 games behind in a race to 4 and went on the hill. Then I won another exhausting safety battle (my opponent was one of a kind who don't even try to run out but instead look to get you hooked on three-foul rule, no matter what) and finally was running out from 1 to 9. After I played position on very last ball of the rack I felt relieved that I managed to get past that creepy s.o.b and approached the ball with my ordinary pre-shot routine. I didn't feel any excessive pressure, but at the same time I recall I coudn't block my mind from some disctracting thoughts. I didn't focus on them, but at the same time didn't get rid of them. So I approached the shot, and on the final backswing I felt something awkward in cue delivery, as if it stumbled upon something. Of course, it is too late and final backswing can not be stopped.
What happened next was like I was hit against the wall. The 9-ball caught the cushion and jawed. I lost this rack, and lost the next hill-hill in a pretty stupid way, I fouled on the 1 and at the same time the cue ball pushed the 9 in front the pocket, so it was a sitter. I actually lost two racks of that match this way, by 1-9 combos, and another by blowing away the golden opportunity.
So, regardless of how good I play this day, no matter how good I feel - such misses are awaiting for me. Similar stupid mistakes happened before but never had they been so costly, never before they came at such crucial moment. Make a ball and it's all over.
After that latest incident I'm on the brink of quitting tournament play, as I don't feel it makes any sense trying to compete while that kind of sh!t is likely to happen almost on every shot, you just don't know when exactly. Totally frustrated.
What I'm looking for is any good advice that will be able to solve my problem. Because otherwise, like I said, it just makes no sense to continue this struggle. That's a battle I simply can't win, as of now, as I don't see the remedy.