The New HR PRO Hard Shell 3 x 4 cue cases for sale!

I have available the NEW HR PRO Hard Shell cue cases that holds 3 butts and 4 shafts. These hard shell cases provide the ultimate protection for your valuable cues. These cases open like a suitcase so that all butts and shafts are easily accessible.

The HR PRO cases are made from synthetic leather or heavy textile combined with a thermo-plastic resin resulting in one of the most DURABLE cue cases to hit the market. Sprayed inside for hot and cold weather conditions. Our cases are light enough for everyday use yet durable enough to withstand airline travel. Furthermore providing a sense of relief knowing that your valued cues are TOTALLY protected by an HR PRO CUE CASE in the plane's cargo area while you travel.

These cases are all HANDMADE, they are NOT plastic or plastic injected assembled. The cases are enclosed by an industrial grade zipper that, will NOT fail!

Players can put up to 5 cues and shafts on top of the others with a nice sleeve to protect from contact. The cue holders inside are made of heavy duty rubber with a radius so the shafts or cues CAN'T COME LOOSE while being handled by the airline personnel.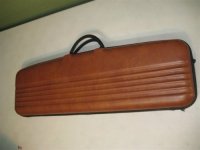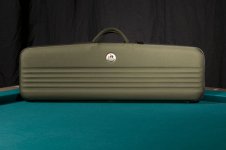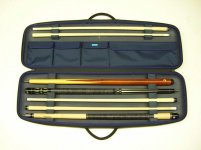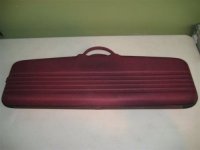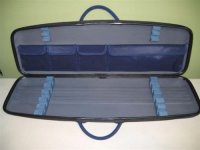 The cases come in 4 colors, (brown, Green, Blue and Burgundy.) Also available, for the TOTAL traveling protection is the outer travel bag that fits HR PRO cue cases perfectly, the travel bag also has padding built into it for the ULTIMATE PROTECTION for you valuable cues. Also the Travel bag is weather resistant.

CASE SIZE: Approximately, 9" wide by 32" long by 3" deep.

WEIGHT: 4lbs.

ACCESSORY POCKETS: There are 3 pockets, for accessories, jump butt cue or extension, chalk, and any other items that you carry.
These cases hold 3 Butts and 4 shafts plus a jump butt or extension in the pocket, and then some.

The RETAIL price for the HR PRO cases is $399.00.

The SPECIAL PROMOTIONAL PRICE is $275.00 plus $22.95 S&H in CONTUS.

If you want the padded ALL weather TRAVEL BAG Add an additional $50.00

For more info or to order, PM me!
Last edited: