Here is a Titlist conversion. Matched it up with an old Brunswick case that needed cleaning and a new strap, but was otherwise in decent shape.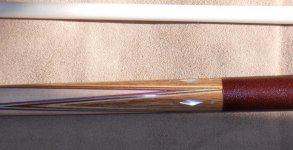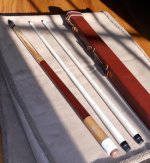 The original oak one-piece cue looked rough, with a lot of scuff marks and shallow dings, but cleaned up nicely. In original form, had no idea how the veneers were going to look after the cue was taken down and finished.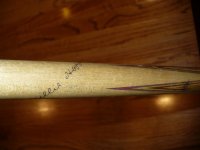 After the conversion, the 19 oz weight stamp still shows through faintly. The colors of the veneers brightened up, but still have an old-time look to them.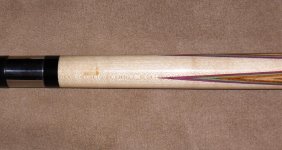 Tom Migliore of TNS Cues did a beautiful job, and the hit of the cue is solid ... but softer than what you'd expect with a steel joint. Tom does not favor a steel joint, but the weight of the joint helped to balance the cue, which was on the light side before conversion. Ended up at an evenly balanced 19.38 oz when finished. Tom used the original brown bumper so another element of the original, old cue was saved in the finished, new cue. One of the new elements was adding rings matching the colors of the Titlist veneers above the butt cap.

I don't have many cues, but play with the ones I have -- including this one -- and I like the way it plays. I also favor the traditional look, and wanted an old school look for this old house cue. Tom should be proud of the job he did with this, his latest, cue. He sells as many cues as he makes, but doesn't make too many because his first priority is his main business, machining cue parts for other cuemakers. Tom makes steel and epoxy pins, joints, fixtures, and other cuemaking parts for many of the well-known cuemakers. He's been in demand for parts and cues for years. Thank you for making this one, Tom!