Fish of the Day
Silver Member
With an OB anywhere on one of the black lines, shoot the CB
parallel with the long rails
to hit the OB with the fractional overlap for that line and pocket the OB in the upper right corner.
The lines are fairly easily remembered by their end points on the left and bottom rails - all end on diamonds except the 1/4 ball cut.
pj
chgo
P.S. The exact fractional cut angles intersect the rails slightly off the diamonds here and there (red marks in the pic), but only the 5/8 and 1/8 fractions are off a noticable amount.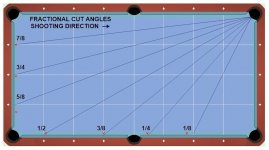 Last edited: