AzB Silver Member
Silver Member
I'm redoing my table, light, and camera setup. I also just purchased the Projection Pro Billiards system. I also moved my table a few feet, which was the impetus for the new light. I'll be updating this thread with my progress. All comments welcome!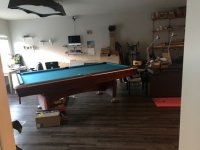 This is what it looked like before. (The table was of course straight and centered under the light...)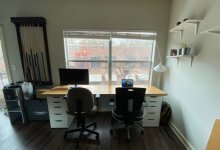 Made a new working desk from a large office door and two Ikea drawers.
Found this table and chairs on the side of the road for trash and took them home and painted them.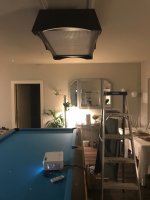 With more room for the two "new" tables, the pool table moved over a few feet. This was the impetus to do a new light, since I would have had to do a lot of work to move the old light anyway, and it was time for an upgrade.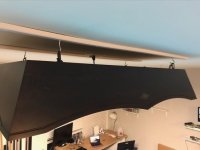 This is how I had mounted the old light 7 years ago when I got the table. I had tried it lower on chains, but hated the look (in my living room). I much prefer the aesthetic high up. And I never have to worry about banding my head
To be continued...
Last edited: