AzB Silver Member
Silver Member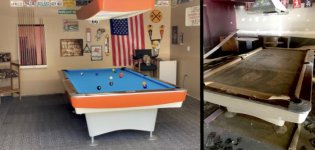 There she is. Almost a year of restoration and waiting.
AZB had a large hand in getting it set up. This table is the brother of Rexus31's GC.
New paint, powder coat castings, trim and feet, sourced skirts from Trent, new light from Rexus31 and his fil Tom, cue rack from AZB user Deacon, triangle rack and hardware from xianmacx, and last but not least...
Subrail extension and overhaul, new cushions, slate leveled, new cloth by Steve Leistikow .
Last edited: