AzB Silver Member
Silver Member
One of a Kind
Francisco Bustamante's journey from poverty to pool's pantheon
Story by Ted Lerner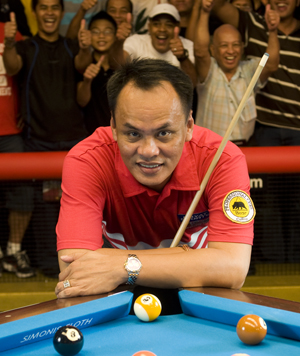 Bustamante is a national hero in the Philippines. (Photo by Carina Altomonte
)
The day after Francisco Bustamante won the World 9-ball Championship in Doha, Qatar, in June, he received a text message on his cell phone from none other than the President of the Philippines, Benigno "Noynoy" Aquino III. The president, himself an avid pool player from Bustamante's hometown, had just been sworn in to a six-year term in office. Despite a hectic schedule and many pressing problems besetting the nation of 90 million people, the new president took a few moments to send the newly crowned world champion a message.

"This is Noynoy Aquino here," the text read, "saying congratulations to your success and honor that you have given our country."

"I'm very happy that I received recognition, especially coming from President Noynoy," a clearly overawed Bustamante said afterward. "I am not intending to ever erase that message. It's like a double whammy. Winning the world championship for the first time, then getting a message from the president of the Philippines."

Several weeks later, however, an unsuspecting Bustamante would be hit with a triple whammy. While engaged in a money match in a Manila poolhall, he received a phone call from the United States informing him that he had just been elected to Billiard Congress of America Hall of Fame.

"I was surprised, shocked," Bustamante said of that moment. "I'm so happy. It's not something I asked for. There are too many good players. It's a big honor, especially to be elected in the USA.

"For me, that's a dream. I come from a small town in the Philippines. I never thought I would one day be in the Hall of Fame for pool."

A world title. A text from your president. And now the ultimate honor representing eternal greatness, the BCA Hall of Fame. For the humble and soft-spoken 46-year-old, it's been a rapid succession of good news that's difficult to comprehend.

"I don't know what to say," Bustamante responded, when asked what it all meant to him. "I'm very happy. I'm just lucky."

A man of few words, Bustamante has always chosen to do his talking on the green pitch, and the results from his nearly two-decade professional career speak loud and clear. Since 1991, Bustamante has captured some two dozen tournament titles and a slew of big invitational victories. He's twice been named Billiards Digest Player of the Year, taking the honor in 1998 and then again in 2002. This year, after shouldering the burdensome moniker of the best player to never win a sanctioned world title, Bustamante finally filled that hole in his resume by winning the WPA World 9-Ball Championship.

Over the many years, he has built up a legion of fans, awed by his massive break shot, flowery stroke, humble demeanor and ready smile for everyone who comes his way. He now stands aside the only other Filipino to be elected to the Hall of Fame, his close friend and traveling partner Efren Reyes.

Fans may be tempted to view Bustamante's induction as a chance for him to finally step out of the long and lofty shadow cast by Reyes. The humble Bustamante, however, sees things differently. He enjoys standing in his good friend's powerful glow and is happy to stay there. Bustamante has never expressed anything but awe for Reyes - and continues to do so two decades since striking up their friendship.

"Efren is my friend, my compadre and my idol," Bustamante said. "I understand it when the fans root for him. I'm not surprised. He's the best player in the world. He's a beautiful guy and friendly with everyone."

Nobody would begrudge Bustamante the obvious fact, however, that he has carved out his own niche and his own standing in the pool world. And like Reyes, his near impossible journey from the bottom rungs of third-world poverty to the highest levels of the sport is an integral part of his legend.

Dreaming about anything other than daily sustenance is a fanciful extravagance few can afford in the impoverished barrios of the provincial Philippines. Money is tight and opportunities are slim. If you are lucky to find a good gig, something that generates a few extra pesos, you stick with it. This is why you often hear guys like Bustamante and Reyes say they "got lucky," after an incredible win. Considering how they grew up, every day was pure chance.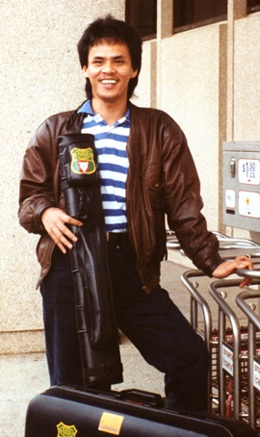 Bustamante hit the road in the early '90s, moving to Germany and making a number of trips to the U.S. and the Philippines
The youngest of eight children, Bustamante nonetheless recalls a simple and happy childhood in a small village in the town of Tarlac, four hours north of Manila. It was in the streets where Bustamante received his now-famous moniker, "Django." His tough-guy attitude and noir look, along with the lit cigarette always dangling from his mouth, reminded neighbors of the gunslinger character made famous by Italian actor Franco Nero.

"Cowboy movies were very popular then," Bustamante said. "People looked at me when I would play [with] no shoes, and I smoked. I hated losing, so I would challenge friends to fistfights. People said I was like Django, and the name stuck."

His father eked out a meager living building makeshift toilets out of cement and planting rice. Bustamante seemed destined to follow in his father's footsteps, finding himself in the rice fields, bent over under the scorching tropical sun, knee deep in mud, planting seedlings for small pocket change.

His first brush with the game that would quickly become his life's calling came when he was 12 years old. His sister owned a small canteen in a busy area of town next to a large open-air poolhall, where jeepney drivers waiting for fares and various hustlers would play money games for hours on end. Fascinated by the colorful balls, the intense action, the poolroom banter, but especially the money changing hands, Bustamante visited the poolhall daily. He would rack balls or act as the referee for the money matches, for which he'd make small tips.

"When I was a spotter," Bustamante said, "I figured I could make some money from playing. So I played every day. There was a lot of action at the poolroom and I'm thinking, 'Oh, pool is easy money.'"

The choice between fast cash and staid books was easy for the youngster, and he quit school after the seventh grade.

"I didn't like going to school," Bustamante said. "It wasn't my style. Once I knew I could make money playing pool, that's all I wanted to do. I just wanted to get better and stronger."

Late at night, when the crowds disappeared and his spotting duties were finished, Bustamante would grab a house cue and practice alone. He was soon playing and winning small-time money matches. At 15 years old, he entered and won a local tournament in Tarlac. At 16, he was beating known players in nearby towns. By his early 20s, he was unbeatable in his area, so a friend took him to Manila, where this unknown kid from the north made even more money for himself and his backer.

"If you wanted to improve your game," Bustamante said, "you had to come to Manila because all the good players were there."

Eventually Bustamante became immersed in the big city's top-level money-game scene, which was unrivaled in the mid-1980s. With tournament opportunities non-existent at the time in the Philippines, greats like Reyes, Jose Parica and a slew of other massive pool talents battled it out deep into every night in sets of 15-ball rotation for sums big and small. Nobody had jobs except to play pool. If you didn't win, you didn't eat that day. It was a brutally tough environment that helped forge the Filipino players' amazing talent and made them so tough to beat.

"I like action," Bustamante said. "Gambling in pool makes you strong. It builds your heart, your nerves, and you get the experience. ... There are a lot of good players in the Philippines. And everybody's hungry."

Making it beyond the Manila poolroom, however, was still an impossible dream for most. Reyes, who had met Bustamante a few times but would only become close to him in the early 1990s, said one of Bustamante's secrets then was that he paid attention to the greats around him.

"He saw a lot of the good players in Manila," Reyes said. "People nobody ever heard of. He watched them and copied them, how they pocketed balls, how they moved the cue ball."