Exclusive Mezz Dist.
Silver Member
Hi AZB Members,
Caroline with Mezz USA here.
We are the exclusive representatives of "Miki Mezz Cues of Japan" in the US. We carry exclusive lines of Mezz products, which previously had limited availability in the US, like the new Alex "The Lion" Pagulayan Limited Custom Cue (only 50 cues will be made available worldwide), EC7 Series, ACE Series, MPC2 Line (Mezz and Predator Cue Collaboration), AYA Series and others.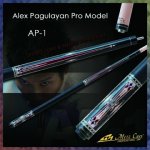 Please note that Mezz USA is not a retailer so you will not be able to purchase Mezz products directly from us. We are currently working with several popular cue websites to make the products available to the public. Our purpose here on AZB is to provide information and answer any questions concerning Mezz products. Please feel free to post a thread, send us a pm or an email.
Thanks!
Caroline
Last edited: