PART ONE
(I can upload only five pics at a time?)
I sold my 7' Diamond Pro-Am table. I never thought it would happen. It's a rather sad ending time for me, but at the same time, a new beginning.
Disclaimer: Names and faces are not included because the buyers really are good people and it is not my intention to identify or embarrass them. They are already as embarrassed and apologetic as they can be. I'm just the picture-taker.
But I'm trying to laugh to keep from crying, and just thought I'd share this with y'all...
----------------------------------------------------------------------------
This is the "before" pic. I have cleared the room of obstacles and is ready for the big move! The buyers will be saving the cost of hiring a professional mover, and will move it themselves. Two guys will do it all. Can't wait to see the "after" pic! Includes two bottles of congratulatory holiday liquer!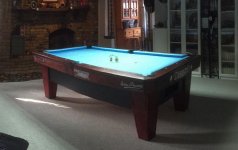 The unique idea is to protect the skirt while putting the table on its side, and helping to keep it flat after it is on its side. So remove two legs and add a frame that will take the weight when the table is tilted onto its side.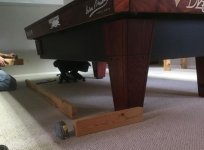 Two shorter pieces of 2x4 will be attached to the leg bases and connected by a longer 2x6. So here, one piece of 2x4 has been attached to the far side, and the closer side has now been jacked up and ready for the next piece of 2x4 to be attached.
This is close to the intended solution. The cross board is still a bit twisted and hasn't been fully lag-screwed, so it isn't yet complete here. But you can see that the plan is that as the table is let down, it will tilt and the weight will be transferred to the table leg bases via the 2x6 lag bolted into the 2x4s that are attached to the leg bases using the original leg screws into the original leg screw holes.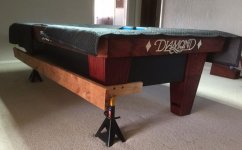 They chose a pallet jack to use to move it. The plan is that the 2x6 goes onto one fork and the top rail goes onto the other fork! Takes a bit of finagling to get them in exactly the right place.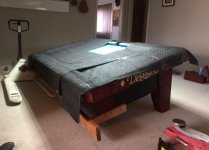 Last edited: