Well-known member
Silver Member
I thought I'd post some pictures of how to brace the end slate frame on a Gold Crown 4 as to stop the sagging of the end slates because of the bad slate frame design by Brunswick.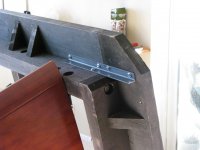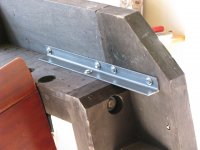 On thick carpet/padding you can use this little trick of mine to stop the feet of the table from crushing the carpeting and eliminate the settling of the table in the carpeting. In this first picture you see how the table sits on the carpeting without using my carpet spacer. And this is without the slate on the frame of the table.
In this picture you can see I used a round cut piece of 3/8"ths plywood to drive 1 1/4" roofing nails through to give me the clearance over the carpeting that I wanted. It also allowed me to raise the playing surface of the table by 1 1/4" inch as well, to 30 1/4" overall.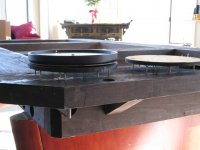 Now in this picture, you can see the foot of the table is well above the level of the carpeting, and yet the carpeting is not being smashed down either. This table could be moved at a later date, and you'd never know a table had ever been setting on the carpeting for years because there would never be any signs of it in the carpet from sitting there.
Glen