AzB Silver Member
Silver Member
First of all, I don't post much, so bear with me on this one.
I have a secret and here it goes: I had Diamond Billiards come install a new 9' Diamond Pro a couple of years ago in my gameroom. This is on the second floor of my home and over time (along with the carpet), It has lost it's level ever so slightly.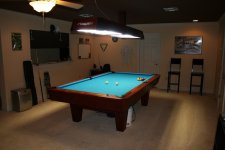 My very good friend
JoeyA
told me that Greg Sullivan was passing through town with "a player". This was none other than Truman Hogue, bank player extraordinaire. Greg and Truman came over to my house to level the table and unofficially pass on some great banking knowledge. WHAT A TREAT!!!!!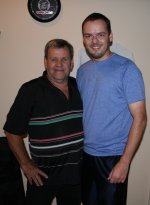 The very next day and another call from
JoeyA
proved just as exciting. Perfect Aim was passing through and looking to unload some knowledge. Gene Albrecht came over and gave
JoeyA
and myself a few hours of instruction and I must say "WOW". You may pick up on bits and pieces of Perfect Aim here and there, but to get it in full and directly from Gene was well worth the money. I can't wait to watch the video.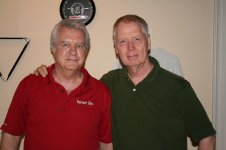 My table has been given a full manicure and spa treatment this weekend. Not only was she leveled by the man himself but also got to feel true masters pocket balls in true fashion. For myself, new friendships were established, and I have absorbed copious amounts of information.
Thanks
JoeyA
, Greg, Truman, and Gene for a weekend of memories.
DocHutch