AzB Silver Member
Silver Member
PoolActionTV Action Match Alert.....
Friday - Sunday February 21-23rd
Live From Racks on The Rocks in West Peoria, Illinois
Hall of Famer Django Francisco Bustamante vs Mosconi Cup Team USA's The Iceberg Justin Bergman.
8 Ball-One Pocket-10 Ball - All Around Match
It's The Best Two Out Of Three Sets.
8 Ball on Friday Night, One Pocket on Saturday & The Tie Breaker will be 10 Ball if need on Sunday.
All Matches Played on 9ft Diamond Table.
Live Stream Coverage at www.PoolActionTV.com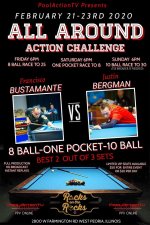 ​