Exclusive Mezz Dist.
Silver Member
Hi AZBers,
Just wanted to say thanks to all the people who stopped by our booth at the BCAPL National 8-Ball Championships in Vegas and tried out our products. It was really great meeting everyone!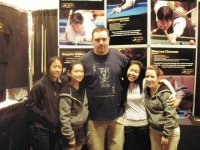 In case you missed us, Mezz USA will be at the BCA Expo in Vegas in June as well as the APA National Team Championships in Vegas in August.
Let me know if you have any questions about our products.
Thanks again,
B.B.