AzB Silver Member
Silver Member
There's a pool tournament right now in Bucharest Romania being streamed on Facebook:
https://www.facebook.com/idmpooltour/
Mark Gray is playing as I post this.
They must have gotten the players to wear some kind of heart rate monitor, because they're showing their heart rates on the screen as they play. They seem to be updated by the second.
Here's SVB playing someone I've never heard of, but the heart rate on the left side of the screen is for the player whose seat is on the left (SVB) and the right one for the other guy.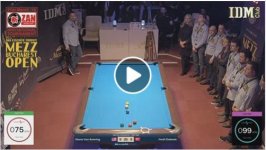 I've never seen that before, and it's kinda entertaining to watch. Does anyone know any more about what they're using? Fitbit maybe? It seems like everyone is doing it, so they must have required it as part of the tournament.