Just for fun, let's see how well we can pick the Matchroom World Cup of Pool (like a traditional NCAA Basketball pool). I'll do the scoring.
Rules:
1) One entry per login name
2) Complete the entire bracket (see below) in one post and do not edit.
3) Points allocation: One point for correct Round One matches, then doubling per round. Thus, a correct pick in the finals is worth sixteen points.
4) Entries must use the name of the countries, not the players.
5) Entries must be in the format provided below the bracket, to make this easier for me.
6) Entries are due before the first match begins.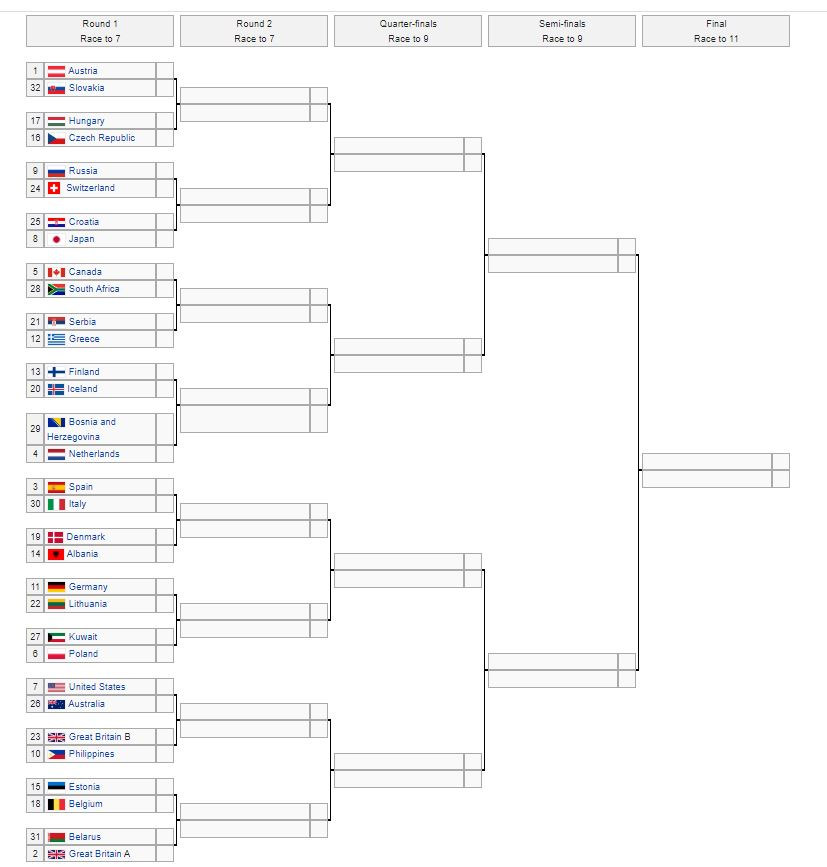 Sample Entry:
Round One Winners:
Austria
Czech Republic
Russia
Japan
Canada
Greece
Finland
Netherlands
Spain
Albania
Germany
Poland
United States
Philippines
Estonia
Great Britain A
Round Two Winners
Austria
Russia
Greece
Netherlands
Spain
Germany
United States
Great Britain A
Round Three Winners
Russia
Netherlands
Spain
Great Britain A
Round Four Winners
Russia
Great Britain A
Round Five Winner
Great Britain A