High Def Videos!!!
Silver Member
He's looking for anyone that was there or involved that might be able to contribute something to his documentary.
Contact him at cj@cjwiley.com if you have anything to provide.

His website is www.cjwiley.com


Don't bug him with "I want a DVD" emails:smile: When he's done with it and they're ready, I'm sure we will catch wind of it. he' thinking he should have it done by the Derby. So plan on going to the Derby this year.:smile:
I find the story fascinating and am very much looking foward to it!
Below is some of his comments regarding it from his Facebook page. I am reposting this with his permission.

I just watched the video of Earl Strickland running 11 racks in a row to win the Million Dollar Challenge....I'm getting ready to tell the world "what really happened"...if you were there and want to be in this documentary please private message me your contact info.....thanks in advance....cjwiley.com

there's been many "opinions" about what happened, but they are ALL mistaken.....I'm the only one that really knows what happened and I've kept it private for 15 years.....along with the video....besides a couple lawyers NO ONE has seen seen it but me....not even Earl...LoL

I'm looking forward to finally telling the inside story....the odds were 7.8 million to one.....I guess that's like drawing 2 Royal Flushes in a row...imho;-) but I guess you would know those odds better than anyone.

It's a very complex story.....it will take hours to tell, but our job is to show it in 90 minutes......It's VERY REAL....we had nearly 100 witnesses

the legal fees on our side alone was over $300,000 ..... I can't imagine what theirs were.....I'd say close to double that....on the last day they had 14 attorneys ....we had 3 .....that shows how serious this really was

This was extremely complicated.....that's the purpose of making the documentary ......to explain it using all the people involved...and there were MANY people involved.....I wasn't allowed to talk about it because of a confidentiality agreement......however NOW I can tell it all......Finally!!!

I'm rounding up all the parties involved.....it will take 8-10 weeks to complete....and then everyone will have a chance to finally know what happened that caused so much controversy in the pool world....the legal battle went on for two and a half years...

I will say this....there was NEVER any issue on whether he actually ran the 11 racks or if anything was done unethically....these rumors are simply not true.

Earl only knows part of the story.....he really wasn't involved much with the legal end and the "juicy" parts of the story.....he did the toughest part though....HE RAN THE RACKS TO WIN....

Again, if anyone was there and saw it...please let me know if you want to be involved in the documentary...i'll be picking the people in the next 3 weeks.

CJ in response to all the many replies he's gotten.

sorry folks....none of what you're saying is true....that's the "twist" is that NOBODY knows what happened....but me and I've kept it confidential all these years originally bound by a confidentiality agreement

Both of these photos are property of CJ Wiley. Please make sure he is properly credited if they are reposted anywhere. If they are used in any kind of project, make sure you get his permission.
Earl after running the 11 racks and winning the 1 million dollar prize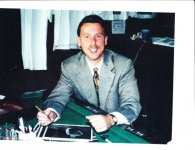 CJ Wiley presenting Earl with his first installment of 50 Thousand Dollars